Air Conditioning Repairs In Alpharetta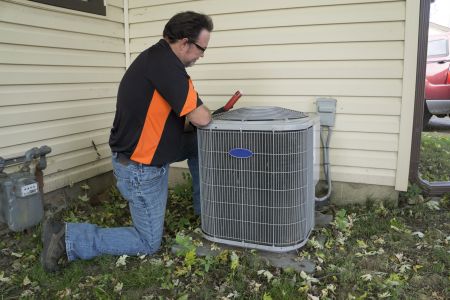 Taking good care of your Alpharetta home means taking care of the components that make up your household, including your HVAC system. For that reason, when you need A/C repairs, the company you contact to get the job done makes a huge difference.
Savvy locals know that Emergency Heating & Air Conditioning will go above and beyond to provide exceptional results for each residential customer. The quality of work we do as an HVAC company is unsurpassed, so don't accept anything but the best for your A/C repairs.
Common Air Conditioning Repairs
Nothing makes summer heat as unbearable as needing A/C repairs and dealing with a system that just isn't cooling properly. You'll need to hire a professional A/C company if you notice certain problems such as:
If the thermostat is on the fritz, your A/C won't work. It may seem like a small component of your overall HVAC but the thermostat acts as the brain and will cause your entire system to fail.
Refrigerant leaks can cause big problems because your unit will stop working properly. Locating the coolant leak and fixing it are essential for helping the system to work correctly again.
A common problem that occurs is that the compressor stops working. It's all about getting the right amount of refrigerant, because too much or too little and the compressor won't work the way it should.
The evaporator coils can become corroded. If this happens you can expect to have problems with the quality of performance of your cooling system.
For superior results from an Alpharetta A/C repairs expert, get in touch with our experts today.
Latest Articles
As an Alpharetta business owner, you rely on your building's HVAC system to help you keep your space comfortable for employees and customers alike, but like any other expensive equipment, your system is going to require maintenance from time to time to continue operating effectively. In […]
When cooler weather moves in, the last thing you want to think about is cold air blowing from your air conditioner. However, any reputable HVAC company or industry pro will tell you that this is the best time to start planning for the warm weather. Getting […]