Commercial HVAC Replacement In Cumming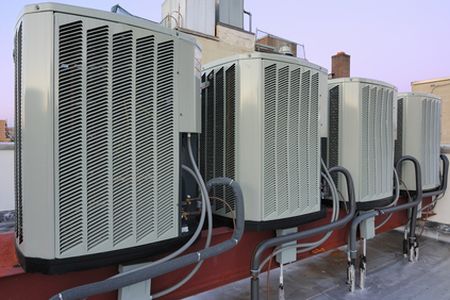 The purpose of your heating and cooling system is to create an inviting and comfortable environment for your staff and customers. Our job at Emergency Heating & Air Conditioning is to take care of services like commercial HVAC replacement, so your Alpharetta business can provide this type of atmosphere.
It's important to maintain your HVAC system and it's our job to make that possible but also our goal to do so in a way that ensures your total satisfaction. We strive to always do repairs first, when possible, unless otherwise requested.
Yet, when it comes down to it, sometimes commercial HVAC replacement is the only viable option. So when that moment arrives, we'll be there to provide you with exceptional results. Call us for your HVAC company service needs.
How to Know if You Need HVAC Replacement
As a business owner, you've got enough to worry about. Let us take care of your HVAC equipment so you have time to do what's really important for your business. How can you know for sure if you need commercial HVAC replacement or just repairs?
Know the age of your system and the expected lifespan. If your system is nearing the end of its life expectancy, it makes more sense to opt for replacement.
Consider the cost of the repairs versus the current value of your HVAC. If the repair expense is 50% or greater than the current worth, replacement is the more cost-effective alternative.
Will there probably be more repairs to follow? At some point, repair needs become seemingly never-ending. If this is the first of many repairs to come, make the wise decision to replace it instead.
Call us for your Commercial HVAC replacement in the Alpharetta area; don't settle for anything but the best.
Latest Articles
As an Alpharetta business owner, you rely on your building's HVAC system to help you keep your space comfortable for employees and customers alike, but like any other expensive equipment, your system is going to require maintenance from time to time to continue operating effectively. In […]
When cooler weather moves in, the last thing you want to think about is cold air blowing from your air conditioner. However, any reputable HVAC company or industry pro will tell you that this is the best time to start planning for the warm weather. Getting […]