Top Reasons To Replace Your Air Conditioning System In The Winter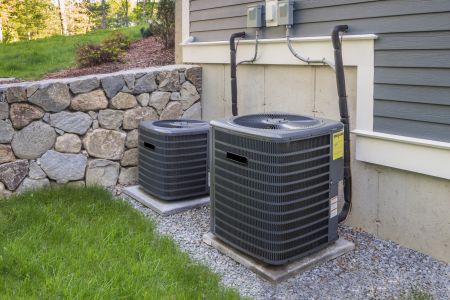 When cooler weather moves in, the last thing you want to think about is cold air blowing from your air conditioner. However, any reputable HVAC company or industry pro will tell you that this is the best time to start planning for the warm weather.
Getting your AC replaced at the peak of summer isn't always possible anyway. Since HVAC companies end up overbooked, fixing and replacing air conditioners, you could end up stuck waiting to get the service you need or paying dearly for emergency service.
Take It From Our HVAC Pros
You can save a lot of money by having your AC replaced before the peak of summer heat sets in. Many times in the "slow season," heating and air conditioning companies are trying to keep their employees working. Instead of waiting until the summer when homeowners all across North Atlanta are requesting service, winter is the prime opportunity to schedule your AC replacement service.
Many times, HVAC companies will offer you a better deal.
Another advantage is that you don't have to suffer in the heat, waiting for the work to get done.
You'll save money on your energy bills because you'll have a more efficient air conditioning system installed before the hottest days arrive.
You won't get stuck with expensive emergency repair or replacement costs in the middle of summer.
Many AC units are discounted during the winter months so that you can score an even better deal.
Year-Round Quality Care
At Emergency Heating & Air Conditioning, we want what's best for our customers. That's why we offer services like maintenance to keep your heating and cooling systems in tip-top shape. However, at some point, tune-ups and repairs won't be enough, and replacement will be the only logical solution. But we still want you to be able to cut costs when it comes to an expensive project like replacement.
Give us a call today to discuss your heating and air conditioning. Contact the HVAC company that cares about its customers in the North Atlanta community.