Air Conditioning Replacements In Roswell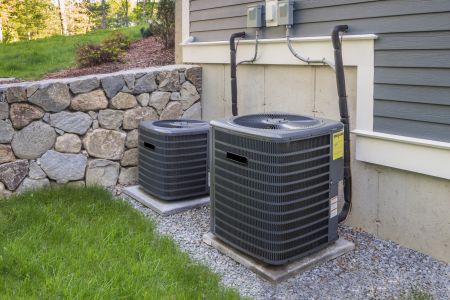 At some point, as a Roswell homeowner, you'll need to hire a professional to take care of your need for A/C replacement. That requires a reliable and reputable HVAC company and Emergency Heating & Air Conditioning is that team.
The important part of A/C replacement is making sure that's the right approach to take. Too many less-than-scrupulous companies will try to convince you replacement is the only alternative.
We firmly believe in using repairs first, replacement only if it makes more sense. Our goal is to make your project as efficient and cost-effective as possible.
Do You Need Air Conditioning Replacement?
How do you know if you need A/C replacement or repairs? Before you bring in an AC company to assess the situation, here are some symptoms you probably need replacement:
Blowing Warm Air
Bad Odor
Little / No Air Flow
Loud Noises
Advanced Age
If you hear noises or smell odors that means you need to call in an expert. If the system is blowing warm air or no air, stop procrastinating and immediately have it inspected.
Also, consider the age of your cooling system. If it's already a decade or older, it probably makes more sense to replace the A/C and start fresh.
Another common formula to use to determine if you should invest into repairs or opt for replacement, is what the cost of repairs will be. If repair expenses would be greater than 50% of the current value, it makes more financial sense to invest in a new system.
Don't just get A/C replacement, schedule superior service for your Roswell home by giving us a call.
Latest A/C Replacement Projects
AC and Coil Replacement in Sugar Hill, GA
This customer called because her Air Conditioning was not keeping the house comfortable. The technician found the system almost completely out of refrigerant. After discussing the repair vs replacement options, she decided to replace the coil and AC only instead of the entire HVAC System with […]
Latest Articles
As an Alpharetta business owner, you rely on your building's HVAC system to help you keep your space comfortable for employees and customers alike, but like any other expensive equipment, your system is going to require maintenance from time to time to continue operating effectively. In […]
When cooler weather moves in, the last thing you want to think about is cold air blowing from your air conditioner. However, any reputable HVAC company or industry pro will tell you that this is the best time to start planning for the warm weather. Getting […]